PRC staff and board of directors, together with national leaders, deeply mourn the passing of their hero and guiding light, Karen Ferguson
12/29/21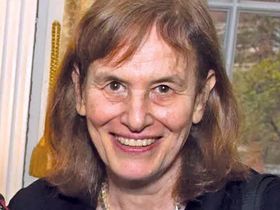 It is with deep sadness and the heaviest of hearts that the staff and board of directors of the Pension Rights Center announce the death of Karen Ferguson, the Center's president and founder, who died on December 23rd from cancer. The Pension Rights Center is a national consumer organization that works to protect the retirement security of workers, retirees and their families.
Karen died as she lived: Quietly and on her own terms.  She didn't like fanfare, never craved the spotlight, was quick to credit others for accomplishments and lived for fairness and justice.
Karen was a passionate and selfless warrior. After graduating from the Harvard Law School, she didn't follow the conventional path into the lucrative practice of corporate law. True to her values and ideals, she instead chose to become an activist, employing her legal training for the good of the least powerful.
After working for the Public Interest Research Group and the United Mineworkers of America Health and Retirement Funds, she founded the Pension Rights Center in 1976 with $10,000 as seed money from renowned consumer advocate Ralph Nader, who directed her to "make pensions an issue."
And did she ever. Through her brilliance and determination, Karen created the leading organization fighting for pension beneficiaries and their families. In addition, she built a national grassroots movement for economic fairness. For 45 years, Karen was involved in virtually every piece of pension legislation, often generating the ideas to reform the law to provide greater fairness and security for the American people. Karen also founded the Center's legal program, which serves as the resource center to six pension counseling and information programs. Funded by the Administration for Community Living, the pension counseling and information projects, with the help of PRC, have helped tens of thousands of people obtain the pensions they have earned.
Karen possessed the rare and special ability to connect with everyone. She was as comfortable talking to Senators in congressional hearings as she was chatting with retired truck drivers on her office sofa.  She didn't care about personal recognition or power. Rather, she cared about using her legal skills to protect and empower workers and retirees–often taking on the role of David to the pension industry's Goliath.  Her intelligence, passion and kindness earned the admiration and respect of both allies and adversaries.
Over her career, Karen testified at scores of congressional and regulatory hearings, was quoted in hundreds of articles and co-authored, with Kate Blackwell, an acclaimed book on pensions, Pensions in Crisis: Why the System is Failing America and How You can Protect your Future.
"We will miss her deeply for the rest of our lives," said Karen Friedman,  PRC's Executive Director, who will be continuing Karen's work, as she shepherds the Center to new victories and achievements. "Karen Ferguson was one of the smartest and most compassionate people I have known and it was a privilege and an honor to work with her. She was an amazing leader and inspired all of us.  While she is irreplaceable, the Pension Rights Center will continue to work as hard as ever to keep her vision of a better and fairer pension system going and growing and it's an honor of a lifetime to build on her remarkable legacy."
Nancy Altman, the Pension Rights Center's board Chair, added, "Karen was a visionary giant. She was creative, wise, and always kind, with boundless energy. Through her advocacy, she achieved monumental victories. She searched for common ground when possible and stood her ground when necessary.  Unwavering in principle, she always maintained her kindness and compassion towards everyone. Her loss is incalculable."
Ralph Nader, who inspired Karen and provided her with the initial donation to create the Center, remarked, "For nearly 50 years, Karen Ferguson was the great, tireless champion leading the fight to protect endangered worker pensions…Unassuming and unsung, she was both the brains and the national networker of efforts behind pension law reform. Her quiet, authoritative influence was felt on Capitol Hill, in executive suites, on the shop floors, and among specific pensioners needing immediate help. Realizing the decline of traditional pensions and the gross inadequacy of 401(k) plans, Karen developed a comprehensive national retirement security plan. This proposal, along with the Pension Rights Center she founded, will be important parts of her lasting legacy. At this time of deep sorrow and sadness, all her family and friends have the opportunity to celebrate her life and extend her work far and wide."
As soon as her death became known, tributes have poured in.  Here are some of the statements from policymakers and colleagues whose lives she touched and changed. (We will be adding more in coming days and weeks).
Statement from Senator Patty Murray, the Chair of the Committee on Health, Labor, Education and Pensions: "For over forty years, Karen Ferguson determinedly worked to ensure retirees received the pensions they were promised. Karen brought passion and a depth of knowledge to her work, and her work improved the lives of so many—most recently, retirees from multiemployer pension plans who were at risk of losing everything they had worked for. The world lost a pension superhero, and she will be greatly missed. "
Statement from Congressman Richard Neal, the Chair of the Ways and Means Committee: "Today, our country lost a true champion for the rights of pensioners with the loss of Karen Ferguson, President and Founder of the Pension Rights Center. As a tireless advocate, Karen dedicated her life to securing workers' hard-earned pensions and I saw this first-hand as we worked to enact the Butch Lewis Act. I join the millions of pensioners around the country in my gratitude for Karen's tenacious fight. She will be deeply missed and my heart is with all who loved her."
Statement by Former Senator Tom Harkin: "Karen Ferguson understood both the societal and personal benefits of having a dependable, secure, and meaningful lifetime pension, and she devoted her life working for just such a pension as a right for all workers. Her work lives on in our efforts to secure such a pension for all Americans."
Statement by former Congresswoman Barbara Kennelly: "Karen was one of those rare people who truly left the world a better place than she found it.  Her entire life was spent helping others – many of whom never knew or appreciated how much she had done for them.  A real Pension Rights hero!"
Statement by Deb Whitman, Chief Public Policy Officer, AARP: "Countless working Americans will feel the loss of Karen Ferguson, the fearless, passionate advocate who, for 45 years, fought for pensioners and their rights.  Whether in Congress, the courts, or with corporate America, Karen gave voice to the voiceless in her effort to ensure more fair and adequate pensions, always striving to improve the retirement system for the millions who are left out or count on its benefits. AARP has been proud to have partnered with Karen and the Pension Rights Center on many of these battles and are deeply saddened by the loss of a true pension hero."
Statement by John Murphy, International Vice President, International Brotherhood of Teamsters: Karen Ferguson was a fierce advocate on behalf of workers, retirees and their families in the halls of Congress. Senators and House members sought her advice and guidance on pension issues and, if they were pushing cuts, they would run and hide when Karen approached to escape her arguments that invariably dismantled their draconian views.  The Pension Rights Center, under her leadership, was an oasis of aid and comfort for thousands of senior citizens after Congress passed the Multiemployer Pension Reform Act, which allowed retiree pension cuts under certain multiemployer plans. Indeed, Karen and her staff, were strong allies, along with the AFL-CIO, during the seven-year campaign of the IBT to secure the pensions of millions of workers and retirees that culminated with the passage of the Butch Lewis Emergency Pension Plan Relief Act. She will be missed but not forgotten by her friends and colleagues. Her life's work will live on every day that retirees are free from the fear of slashed income.
Statement by Edwin Walker, Deputy Assistant Secretary for Aging in the Administration for Community Living: "Karen was an inspiration to the millions of people she and the Pension Rights center have helped. She recognized early on the need to create specialized legal resources to help people resolve their complex pension and retirement income problems. Her foresight and drive helped inspire the development of the Pension Counseling and Information Program under the Older Americans Act – and now we're proud to say that that program has recovered about $277 million for more than 66,000 people, an amazing achievement.  Karen was a pioneer, an inspiring leader, and there is no doubt that the program her vision helped build will continue helping older Americans and their families."
Statement By Mary O'Donnell, President of RRF Foundation for Aging, a long-time funding partner of the Pension Rights Center: "RRF Foundation for Aging has had the privilege of partnering with Karen and her team for more than 40 years — almost since the Pension Rights Center's inception.  We are proud to have supported PRC with nearly $2 million in grants over this period. We have witnessed Karen's stellar intellect and quiet but effective leadership and advocacy skills in winning historic pension protections and reforms for millions of retirees and older workers – past, present, and future–who would owe immense gratitude to her for their economic well-being.  May Karen rest in peace with the knowledge that her legacy will live on in the hands of the solid organization that she built."
Statement from Acting Assistant Secretary of Labor Ali Khawar: "Karen Ferguson was a towering and historic figure who spent over forty years fighting for retirement security. Karen had an unmatched passion when it came to improving life for America's workers and retirees. She will be deeply missed, and the country is worse off without her advocacy. Countless Americans have and will benefit from her hard work and the legacy that the Pension Rights Center will carry on."
You can read more about Karen in The Wall Street Journal, The New York Times, and The Washington Post.
We've also set up an online guestbook, we would love to hear what Karen meant to you.
---
The Pension Rights Center will convene an event later in 2022 to celebrate the legacy of Karen Ferguson. In lieu of flowers, Karen's family has asked that donations be made to the Pension Rights Center.